Powakaddy FW3i Electric Golf Trolley
Boasting an all-new 2.3" full colour widescreen display, digital power gauge and battery fuel indicator, the stylish FW3s offers engineered simplicity at the highest level. With its straightforward pause & resume function, the newly-designed FW3s is ideal for golfers seeking simplicity, as well as unbeatable performance and reliability.
Key Features of the new FW3i
NEW 2.3" Full colour widescreen display
NEW Digital power gauge
NEW Battery fuel indicator
NEW Whisper quiet powerful 230W motor
Unique Plug 'n' Play™ battery system
High performance low profile PowaFrame Chassis
Thinnest, lightest and most powerful lithium battery on the market
Cutting-edge technology ensures your battery discharges less during each round of golf
2 Year Warranty on the trolley
Lithium Batteries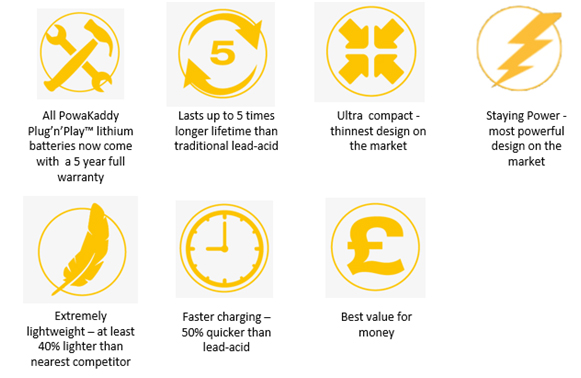 Lithium batteries are overwhelmingly being chosen by golfers instead of the traditional lead acid versions. They have a longer lifespan which makes it much more cost effective in the long term. Our PowaKaddy lithium batteries use the latest re-engineered lithium-ion technology which means they pack more staying power. They are super lightweight, extremely reliable and their compact size means it is so much easier to transport. The Plug 'n' Play™ Lithium battery now comes with a *5 year full warranty.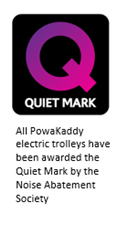 What is Quiet Mark?
The Quiet Mark is the international approval award programme associated with the UK Noise Abatement Society charitable foundation. It recognises technology that has been designed to reduce noise within the design of everyday machines and appliances, and find solutions to noise problems.
PowaKaddy electric trolleys are the first electric trolleys to receive the Quiet Mark accreditation.
Features & Benefits
NEW 2.3" widescreen display – Clear sharp screen
NEW Digital power gauge – View your trolleys power setting
NEW Powerful whisper quiet 230 Watt motor – Exceptional power for all types of terrain
NEW Battery fuel indicator – Quickly view battery capacity
High performance low profile Powaframe chassis – Looks stylish and protects vital components. Easy to clean with optimum ground clearance
Unique Plug 'n' Play Battery system – No fiddly connecters or exposed wires which allows batteries to quickly slot into place
Lightweight and strong alloy frame with stylish tube graphics – Sleek looking with extra strength
Compact and simple three-fold system – Assembles in seconds with effortless motion
Low profile Sport wheels and tyres – Quiet running on hard surfaces and easily removable for extra storage space
Front wheel tracking adjustment – For Straight line running
PowaKaddy key lock – Stops your PowaKaddy bag from twisting
Bungee straps with integrated soft touch anti-pinch handles – Provides secure bag retention
Ambidextrous control with soft touch grip – Comfortable handling for left and right handed golfers
Power on/off LED indicator – To put the trolley in to standby mode
Power, Pause and Resume Function – Pull off at the same speed you stopped at.
Thinnest 18-hole lithium battery 220Wh and 36-hole lithium battery 260Wh – The most powerful lithium batteries on the market
Warranty – 2 years for the trolley and a 5 year full for the lithium battery
Available in Classic Black or Polar White
* Terms & Conditions apply please see powakaddy.com
CROSS-BORDER SALES
PowaKaddy has an exclusive distributor that looks after the sales they have made in each of their franchised countries. This means that Warranties on products sold in one country are not transferable to another country because such contracts follow business‑to‑business transactions.
Retailers, especially online retailers, are therefore expected to make it clear that "out-of-country" sales only carry a "back-to-retailer" warranty. So, for example, a product purchased from the UK and shipped to the Ukraine will not be repaired under warranty in the Ukraine.  It will have to be shipped back to the UK before being considered for warranty repair in the UK. PowaKaddy will not pay for this shipping because it is a breach of contract with their distributor.  So consumers and sellers need to bear this in mind.
Weight & Dimensions
Weight without Battery 9.2kg
Weight of 18-hole Lithium Battery 1.8kg
Weight of 36-hole XL Lithium Battery 2kg
Wheelbase 570mm
Folded 385mm (H) X 860mm (W) X 570mm (D)
Open 955mm (H) X 1285mm (W) X 570mm (D)
Reviews
There are no reviews yet.